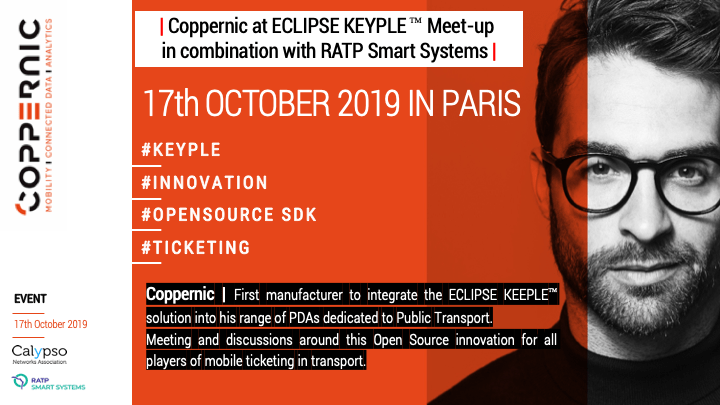 The introduction of the new Keyple SDK
Coppernic participated this Thursday, October 17 at the Meetup – Eclipse Keyple organized by Calypso Network Association.
Our Software Development Manager, Benoist Laforge, in partnership with RATP Smart Systems, was able to present a concrete case of application of the Keyple solution.
Indeed, the RATP group has launched a call for tender on its project called TCT (Terminaux de Chargement de Titres) in 2019.
The objective of this project is to replace the obsolete sales terminals of the depositories for several reasons:
Technology (RTC Modem) Endangered
Hardware not maintained by the supplier
The TEC does not allow to integrate evolutions easily
The idea is also to capitalize on the remote charging service (Smart Ticket)
A desire to open up to all actors of Public Transport
RATP was therefore seeking to develop a new sales terminal for depositories, compliant with all Calypso tickets, to open competition to suppliers without Calypso experience and to reuse developments.
One of the mandatory requirements was to integrate the Keyple SDK into the terminal to facilitate the reading of Calypso titles.
Coppernic was selected during this tender thanks to the opening of its system: documentation, IP, Sources and thanks to its integration agreement of SDK Keyple.
About 1800 terminals and printers were delivered in the year 2019.
The presentation with the intervention of Benoist Laforge is available
here
.
3 questions to our Software Development Manager
We asked Benoist Laforge
Benoist Laforge
to tell us about the implementation of this SDK in Coppernic mobile terminals.
Has the mandatory nature of the Keyple SDK integration in the RATP tender been one of the driving forces or challenges of Coppernic's response to it?
Coppernic is aware of Keyple through the RATP tender, this is the main reason for the integration. In addition, Coppernic is heavily invested in Open Source and Public Transport is one of Coppernic's key business sectors. The adequacy was therefore present to respond favorably to this project.
What were the difficulties and facilities encountered when integrating this SDK into the C-One2 ?
There were few difficulties. The only difficulties that Coppernic was able to encounter are those related to the Keyple architecture that was not designed for a synchronous drive like the Paragon drive.
For the rest, the integration went pretty well.
Can we imagine that the success of this integration of SDK Keyple will give Coppernic an advantage to position itself with other public transport actors?
Coppernic is the first player to integrate this technology into one of its mobile terminals. Of course, there is a slight advantage to actually highlight this success and position itself as such. Nevertheless, the advantage of Keyple is to allow new players to read tickets without having a biblical knowledge of the transport card architectures. Many other actors should then implement this solution.