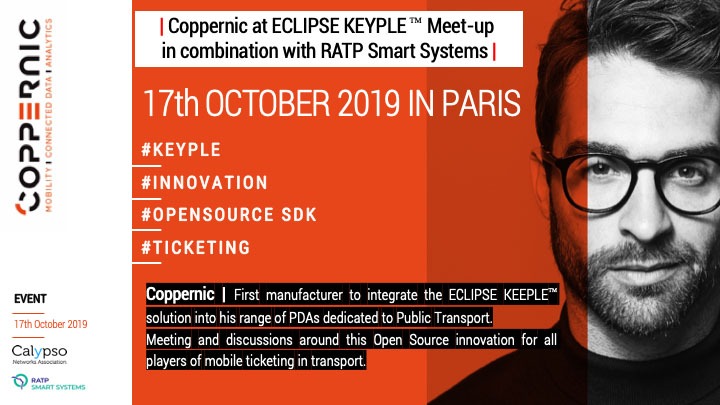 Coppernic will participated Thursday, October 17, 2019 at the Meet-up ECLIPSE KEYPLE™ in Paris to present with RATP Smart Systems the first ticketing project deployed in the field and which integrates this fully Open Source solution.
COPPERNIC | FIRST INDUSTRIAL INTEGRATING ECLIPSE KEYPLE™
This event, organized by Calypso Networks Association, allowed our Software Development Manager, Benoist LAFORGE, to expose the integration work done by his teams in C-One2 ASK Coppernic mobile terminals, the methods used to work with this SDK and the undeniable interest that this Open Source innovation represents.
Winner in July 2019 of the tender launched by RATP Smart Systems for the supply of approximately 1800 teleticketing mobile terminals and printers, Coppernic implemented the ECLIPSE KEYPLE™ solution on its C-One2 ASK PDAs, allowing thus reading all types of Calypso tickets.
Coppernic thus becomes the first manufacturer to implement this completely Open Source solution, free and accessible to all, in its mobile terminals dedicated to Public Transport.
ECLIPSE KEYPLE™ | A CONCRETE, INNOVATIVE AND OPERATIONAL RESPONSE
The ECLIPSE KEYPLE™ solution provides a strong response to the problems that communities may encounter when they want to change their ticketing system. This innovation will enable them to master their system over the long term but also to accelerate the integration and development of efficient ticketing applications by new players in line in accordance with the virtuous circle that open source software can represent.
Straight from the work of the Calypso Networks Application development Teams, ECLIPSE KEYPLE™ is a library of functions that allows the development of a ticketing application based on a Calypso secure contactless transaction, embedded in a terminal or server, without having to develop the Calypso specific layer
In constant pursuit of new technological challenges, Coppernic is proud to be a pioneer in the integration of this innovation that will facilitate the use of the Calypso standard in mobile solutions dedicated to RATP.